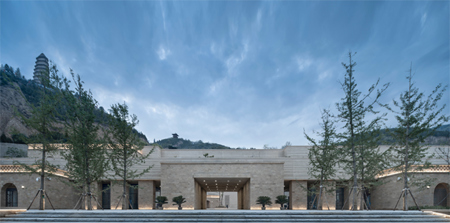 ---
Yan'an Tourist Service Center
Architectural Design and Research Institute of Tsinghua University
---
The project is located in the core urban area of Yan'an, and also in Baota Mountain Scenic Area, which faced many problems such as damaged ecological environment in the surroundings, cultural discontinuity and unsustainable urban development.
When the project team was commissioned with the design task, the original buildings on the site had been removed, showing a scene of desolation. In addition, the site is surrounded by various historical monuments, which needed to be protected.
The tasks were to accommodate functions such as tourist services, consulting, exhibition, and parking, etc..
The design took ecological security as the core. While at the same time working out flood discharge as well as soil and water conservation strategies to cope with possible geological disasters in the future. On this basis, it systematically restored the ecology of the site and its surroundings and created a series of dynamic spaces with a sense of belonging.
The team preserved and restored those valuable historical buildings, designed a circulation route to connect those important nodes. The project utilized local beige sandstones and traditional craftsmanship to construct the new building and adopted the techniques of landscape architecture, to embed the tourist service center between the mountain and river and to let its main volume "dissolve" and blend into the surroundings.
The rooftop of the new building was turned into green fields and squares. In addition, it utilized local materials and discarded sandstone on the site, so as to carry the memories of the site and showcase its characteristics.