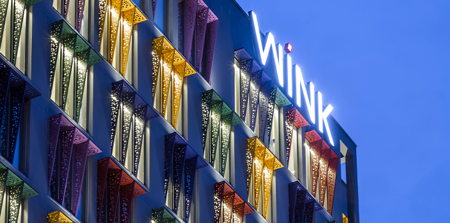 ---
Wink Hotel Saigon Centre
AW² Architecture Workshop
---
Client: AW² Architecture Workshop – Reda Amalou and Stéphanie Ledoux

Wink Hotel Saigon Centre is a medium-rise urban hotel situated in Ho Chi Minh City, Vietnam, comprising 237 hotel rooms. The hotel is part of the new Wink brand, which is rolling out a series of hotels across the country. Located in District 1's Dakao Ward, a hip and upcoming neighbourhood, the twelve-floor, 10,500 m2 hotel has been designed as an extension of Vietnamese street life, bringing local flavour from the outside in. AW² designed every element of this affordable lifestyle hotel, from the architectural concept through to interior design and furniture, as well as collaborating with the client to create the brand identity across its hotels.
For the Wink brand, AW2 created a specific locally-inspired colour palette deployed throughout the hotel, from the bespoke sunshades on the façade down to the cushion fabrics. The bold and vibrant exterior design attracts attention from the outside, acting as a beacon for the wider neighbourhood.
The Wink Hotel incorporates blended spaces where accommodation, work and leisure co-exist. The interior design is centred around creating a fun and dynamic environment, using furniture styles based on the street food culture such as food carts for the self-service food and beverage facilities and bicycles repurposed as table legs for the breakfast bars.
With three different colour spectrum schemes for the bedrooms (each made up of three key Wink-branded colours), the external sunshades act as an extension to the hotel interiors and reflect the colour themes found in each hotel bedroom.