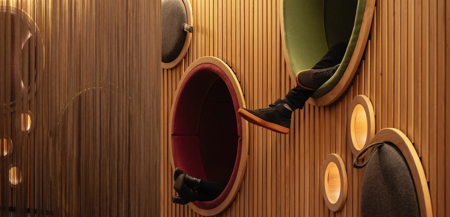 ---
West Downs Centre
Design Engine Architects
---
Client: University of Winchester

The site for the new building is alongside one of the main arterial routes into Winchester which was originally the line of a Roman road that radiated out from the centre of City.
The new building is placed within the site to make best use of the existing topography and comprises of three juxtaposed parts, with each volume expressing its unique function.
A linear block of classrooms and teaching facilities offer a background canvas against which the circular lecture theatre is place with the triangular roof sheltering the social learning and library spaces completing the composition.
The front knapped flint entrance wall protects the Library and Garden as well as guiding visitors into the main entrance, gallery and café. The garden allows light and air to flow into the majority of the surrounding ground floor internal spaces, whilst offering views from inside of the garden.
Weathering steel window-surrounds and grilles are cut into the flint wall to echo the Medieval walls that once surrounded Winchester, the remnants of which can still be found today.
The elevation to the 5-storey teaching building is protected by a sculptural weathering steel Brise Soleil echo the colour, scale and window proportions of the neighbouring listed building.
The circular 'drum' contains the 250-seat lecture space and is designed as a sculptural object which sits within the landscape. The elevation is clad in geometrically designed vertical weathering steel fins to provide an ever changing texture as the sun moves throughout the day.
Additional Credits: Mark Butt - Client (University of Winchester); Richard Jobson - Design Director ( Design Engine Architects), Pete Collins. Project Architect ( Design Engine Architects); Laia Mulet. (ONE 'T' ONLY ) Interior Architect ( Design Engine Architects)