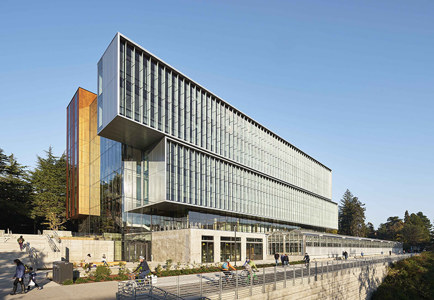 ---
University of Washington, Life Sciences Building
Perkins&Will
---
Client: University of Washington

The Department of Biology at the University of Washington sees over one third of all students enrolled at UW and is the largest STEM program in the state. In order to meet their growing demand, the 207,000 SF science facility embodies Biology's core values of scientific discovery, collaboration, active learning, and environmental sustainability. With these core values in mind, we designed a flexible, collaborative and highly sustainable building.
Large landings on the open stair and breakout spaces with soft seating near the café and adjacent offices offer collaborative zones throughout the building, fostering conversation between students, faculty, and researchers.
Flexible planning and programming allows 18 more Principal Investigators than originally planned, while enabling endless views and ample natural light through laboratories, offices, conference rooms and break spaces.
Innovative solar glass fins put science on display while generating enough electricity to light 12,400 SF of offices year round and contribute to an 81% energy reduction. Running along the southwest façade, the fins are a billboard for sustainable innovation—feeding real-time data to touchscreen dashboards in the entry lobby where students can compare the energy generated by the standard solar panels on the roof with the energy generated by the fins.
A greenhouse located just a couple steps from Seattle's largest pedestrian thoroughfare encourages the community to engage with the University and discover the science happening within. Additionally, unique plants from the Biology courses are integrated into the cascading landscape west of the building.
Twitter Handles: @perkinswill_SEA and @perkinswill