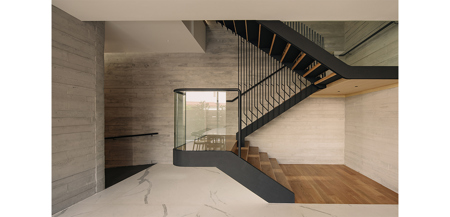 ---
The Strata House
Scott Brownrigg
---
Scott Brownrigg's design for this 462 sq m, 3-storey, semi-detached home delivers timeless family accommodation suited to its tropical context, that reflects the owner's desire for spaces to spend time with their children.
Completed in June 2020, The Strata House is constrained by its location on a narrow plot. In response, accessibility both into the house and around the first floor living, dining and guest room spaces was a key consideration.
The layering of varying heights creates an internal space that connects the family in a fun way and weaves around the central steel staircase. The staircase is a key design element, connecting the vertical levels, allowing for cross-ventilation, and becoming a feature, patterned screen to diffuse the triple volume daylight from the third level roof skylight.
These interesting internal spaces and their detailing are light in their architectural expression. Created with an innovative palette of materials that include off-formed concrete texture, timber grain and an industrial steel matte lustre, which provides a backdrop for the daylight and creates a play of shadows. Materials like the concrete were selected for their low-maintenance attributes; reducing energy consumption in the future.
Passive design strategies were adopted such as maximising natural ventilation and daylight, both of which contribute positively to the health and wellbeing of the building's occupants.
With close proximity to its neighbours, and to ensure privacy, a continuous metallic aluminium roof defines its form; with no openings on the front elevation and with an optimum amount of glazing to the side.