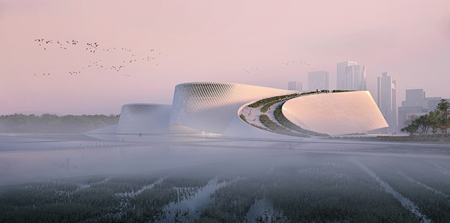 ---
Shenzhen Natural History Museum
3XN, B+H, Zhubo Design
---
Client: Engineering Design Management Center of Shenzhen Municipal Construction and Public Works Administration

The new Shenzhen Natural History Museum is set to be one Shenzhen's "Ten Cultural Facilities of the New Era" and the first large-scale comprehensive natural museum Southern China once complete.
Located adjacent to the picturesque Yanzi Lake in the Pingshan District of Shenzhen, the new 100,000m2 facility will be a world-class natural science museum dedicated to interpreting the laws of natural evolution, showing the geographies of Shenzhen and its ecology in a global perspective, and actively advocating science.
3XN, B+H and Zhubo Design's winning design scheme, entitled "Delta", rises seamlessly from the river delta, inviting visitors and residents to journey along its accessible green rooftop. A public park extends throughout the roof and highlights the museum's organic geometries. Like a river stream finding its shape in balance with the earth, every turn frames a new spectacular view over the surrounding park, hills, and lake from dedicated viewing terraces along the roof park.
The design extends the public park network and aims to maximise access to the lush green areas throughout with a range of activities dedicated to keeping the site open and active throughout the day – from early morning jogs to late evening strolls. This gives the opportunity for residents and visitors alike to enjoy and connect with nature.
Like water streaming down a river, the undulating form leads guests to a 'cave' inspired passage that is connected to the to the museum lobby and activated by multiple cafes and public areas, serving as the pulsating heart of the building.