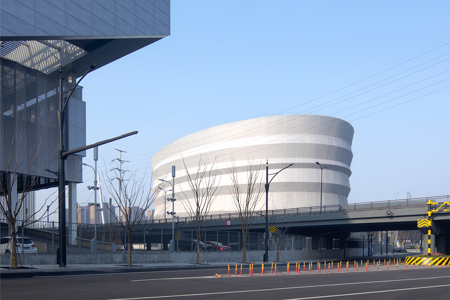 ---
Shaoxing International Convention and Exhibition Center
Shenzhen AUBE Architectural Engineering Design Co., Ltd.
---
Copyright details: Photos: © Arch-Exist Photography
Client: Shaoxing Keqiao Zhejiang China Textile City Market Development and Operation Group Co., Ltd. Shaoxing Keqiao District Sports Center Investment and Development Co., Ltd.
Main Function: Convention and Exhibition, Conference, Comprehensive Supporting Facilities Total Floor Area: 255,500㎡
key design elements An organically integrated "city" and "market".
As one of the first listed national historical and cultural cities. How to balance the modernity and regional characteristics of the convention and exhibition center buildings while amplifying the advantages of Shaoxing's superior location, rich cultural heritage, and vigorous manufacturing industry through the Shaoxing International Convention and Exhibition Center are the key issues that AUBE Conception addressed in this urban convention and exhibition building practice.
Shaoxing International Convention and Exhibition Center incorporates the local cultural characteristics of Shaoxing by integrating traditional symbols such as "water", "textile", "eaves", and "lantern" into the overall architectural design, which makes the historical and cultural essence to take on a new look within the context of a new era
Sustainability and materials innovations Energy saving: Through the optimization of enclosure system + air conditioning system + lighting and equipment system, the energy consumption per unit area of the venue is reduced.

Water saving: reduce municipal water consumption and increase rainwater replacement rate through rainwater collection and reuse + municipal reclaimed water + optimization of water-saving appliances.

Material saving: Through the optimization of all-steel structure + above-ground comprehensive pipe gallery + recyclable materials, the construction cost and the operation and maintenance cost of the building theme structure are reduced.