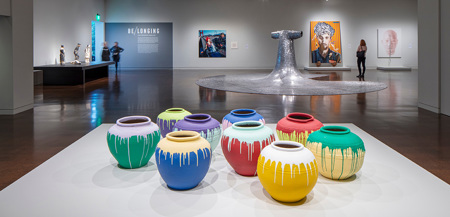 ---
Seattle Asian Art Museum
LMN Architects
---
Client: Seattle Art Museum

A treasured historic building in a landmarked, Olmstead-designed city park, the Seattle Asian Art Museum's expansion and renovation inaugurates a new era for one of the few museums in North America dedicated exclusively to Asian art. The project marks the first substantial renovation of the landmarked, Art Deco building since its construction in 1933. The expansion and renovation restored the historic structure, modernized the original galleries, and added a new gallery, education space, conservation lab, and community art gallery. The project preserves the building's architectural legacy while enhancing the museum's capacity to support its growing collections and fosters a more inclusive relationship with the Seattle community.
The project focused on recapturing the essential character of the historic building and complementing it with a new, contemporary addition, compatible with the historic structure. The modern addition enhances the Fuller Garden Court, the historic building's central hub, and provides access to galleries from multiple points. This is accomplished by the introduction of two new portals connected to a new Park Lobby, providing an additional access path through the new gallery. The historic entry, Fuller Garden Court, and the Park Lobby create a circulation spine with views of the park to the east and the west, rejuvenating the building's connection to the park and the community.
The renovation and expansion create the opportunity for the museum to honor its mission, tell new stories about Asian art, and increase the connection between Asian art and the multi-cultural community within the Pacific Northwest.
Civil Engineer: Coughlin Porter Lundeen, Inc.; Commissioning: Glumac; General Contractor: BNBuilders, Inc.; Landscape Architect: Walker Macy; Lighting Design: Fisher Marantz Stone; Mechanical Engineer: Rushing Company; Electrical Engineer: Stantec; Envelope Consultant: RDH Building Science, Inc.; Historic Preservation Consultant: BOLA Architecture and Planning; Owner's Representative: OAC Services, Inc.; Structural Engineer: Magnusson Klemencic Associates