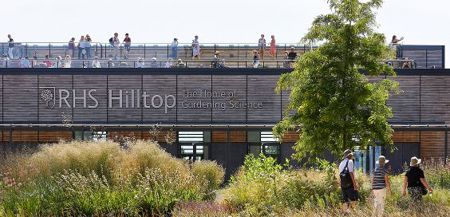 ---
RHS Hilltop – The Home of Gardening Science
WilkinsonEyre
---
The RHS Hilltop – The Home of Gardening Science, is the UK's first dedicated gardening science hub. It was commissioned by the Royal Horticultural Society for their Wisley site in Surrey and opened in June of 2021. The key client brief was to safeguard the RHS plant and library collections, improve science research and laboratory facilities, and promote gardening science to a wider public audience.
Located on a hilltop site, the facility measures 5,265m2 and provides state-of-the-art scientific laboratories, public exhibition space, teaching studios, an events hall and new facilities for the RHS's nationally significant Herbarium, science and library collections. The building is surrounded by four acres of science gardens, or 'living laboratories'. The east wing is dedicated to the laboratories and library collections, while the west wing accommodates more public-facing facilities including education activities.
The overall design objective was to embed passive environmental design features wherever possible. Both wings are clad in sustainably sourced and naturally weathering sweet chestnut timber, and the first-floor window frames protrude from the timber cladding to provide solar shading.