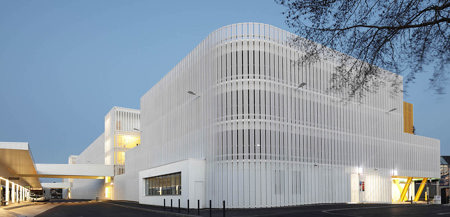 ---
Parking in Nantes
IDOM
---
Winner of a public tender process, the project is located in a low-density residential environment, in the town of Bouguenais. The proposal is part of the desire of Nantes Metropole to improve the city's public transport network with a hub for bikes, cars, buses and trams.
Our approach to the design process integrates the functional and technical requirements with the aim of reducing the impact that an infrastructure like this will cause in a low-density and a high quality green environment. The project included various strategies that answered to these objectives. Landscaped patios have been integrated in the façade layout, coinciding with the vertical communication cores; a strategy aiming to split and reduce the perception of the volume of the building, while improving the experience and natural orientation of the users, since patios almost become hanging gardens linked with the surrounding vegetation. The proposed interior helical double ramp is the most effective way for the circulation of vehicles, allowing buses to turn round the building naturally, offering a soft and gentle shape to the building. Furthermore, volumetrically speaking, the main building softens thanks to the perforated metal sheet slats envelope, showing a light and noble appearance to an infrastructure typology building. All these decisions were taken on the basis of our commitment with the client's budget.
The project includes all architecture and engineering services, as well as the urban development and signage. IDOM has been responsible for the project from its conception to the Supervision of the Works.
Explore Twitter: @IdomGroup