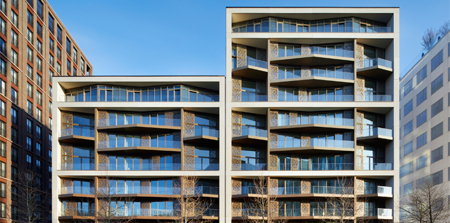 ---
LUMA
Squire & Partners
---
LUMA, a new boutique residence comprising 61 apartments in the heart of King's Cross, is named for the centrality of light to its design ethos - responding to its setting between two urban green spaces.
Located between Lewis Cubitt Park to the west and Jellicoe Gardens to the east, the design knits into the evolving urban setting and references the surrounding historical and natural landscape.
In a nod to the former industrial character of King's Cross, the form is expressed as a pair of stepped warehouse-style buildings with a delicately layered façade. A pattern inspired by converging railway tracks combines with a secondary layer that emulates dappled light to create an organic pattern used on bas-relief aluminium and concrete panels and decorative lattice screens – which modulate light and views in and out of the building. Bronze coloured splayed bays with geometric balconies undulate across the façade, blurring the boundary between inside and out.
Flanked by retail and restaurant units designed to spill out into walkways that border both parks, residents enter LUMA through a dual-aspect reception and residents' lounge, which merges classic hotel design with the atmosphere of a welcoming members club. A continuation of the intricate exterior, latticed screens subtly partition the space.
Apartments are designed to offer light-filled living environments, with 1.5-height residences across the middle floors that allow for mezzanine living areas and dual-aspect views throughout. Penthouses include generous living spaces across three levels, with balconies and rooftop gardens that offer unparalleled views over King's Cross and beyond.