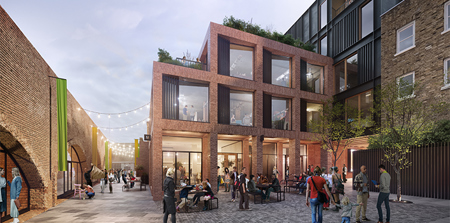 ---
Lower Marsh
Conran and Partners
---
Conran and Partners was asked by Lambeth Council – via an open competition – to design a mixed-use building in Lower Marsh. The site is based in Waterloo, one of London's most complex and colourful neighbourhoods.
Lower Marsh has long supported a vibrant, independent, lively community. We have developed a scheme which complements the diverse streetscape and market, while recognising the potential to create a new area of public green space in Granby Square, that carries through to the archways under the station.
The proposal incorporates retail – including a restaurant or café – on the ground floor and office space across the four levels above. Office space is of a scale that will be appropriate for coworking, accommodating small businesses which will benefit from the site's close proximity to Waterloo Station. To the rear, the building steps down, offering a number of roof terraces overlooking the courtyard. A brick colonnade is formed along the courtyard's north side.
Our approach to the materiality and detailing of the external envelope has been influenced by the materials, colours and textures of the surrounding buildings and structures. We wanted to explore the opportunity to create spaces between the buildings which didn't exist previously, helping to play a wider role of binding together the neighbourhood they serve.
Our ambition was for Lower Marsh to be an exemplar design which demonstrates to developers how we can both make a positive contribution to the architecture of the area as well as the wider community, while creating a sense of place.