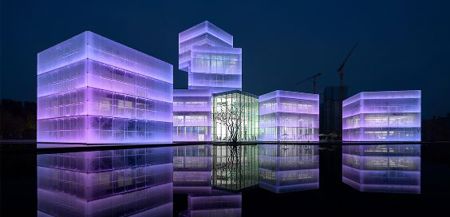 ---
Ice Cube -XinXiang Cultural Tourism Center
Beijing PRO Lighting Design Co., Ltd.
---
This is a contextual building designed by Zone of Utopia Qiang ZOU and Mathieu Forest architecte. 9 "ice cubes" are superposed and offset from each other , twisting and staggering, forming a complex and dynamic volume, expressing the theme of ice and snow leisure sports in the cultural tourism city.
With the use of light and color, the lighting designer thinks about the arrangement and combination of various lights, so that he breaks through the inherent form of isolated ice box during the day, and magically turns the "big ice block" at night into a romantic fairy tale, showing the diverse styles and colorful of architecture. The lighting is set to 3-5 times the overall brightness of the surroundings, gradually raising and converging from bottom to top. Combined with the interesting association of Frozen, designer breaks through the traditional cold white color of ice and snow, allowing to radiate more colorful lights to convey the romance and joy of the snow world. The designer cleverly applied specific lighting colors. Not only did he choose the blue and white tones that are inherent to the impression of ice and snow, but also captured the blue and purple tones reflected from the ice flowers. Dreamy and sweet colors flow slowly on the cubes, reflecting each other, which to some extent highlights the theme of the founding of happy cultural tourism city.