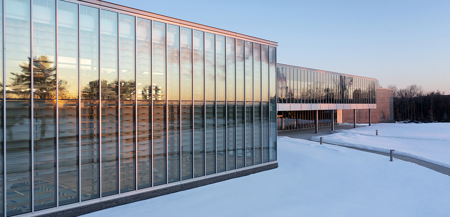 ---
Harold Alfond Athletics and Recreation Center, Colby College
Hopkins Architects + Sasaki
---
Client: Colby College

The new building is rooted in Colby College's ethos and values, supporting individual and collective growth through physical and mental health, and encouraging teamwork and community through sport and competition.
The 350,000-square-foot building has become the largest athletics facility in the Northeastern US, comprising a multi-use field house, ice arena, Olympic-sized pool, competition gymnasium, squash courts, a strength and fitness center, and studios, supported by locker rooms, sports medicine facilities and offices.
Given its extraordinary scale occupying one third of the entire campus footprint, the project gave us the opportunity to plan five large venues together. We aimed to minimise their collective scale, exploring spatial and programmatic efficiencies to create a compact, coherent and efficient building, while the overall mass is broken down to a series of forms which relate holistically to the scale of the rest of the campus.
The main entrance invites visitors into a lobby that opens up into a landscaped courtyard. Envisaged as the heart of the project, the courtyard unifies the building around a single external space to establish a strong point of common identity, orientation, and wayfinding with a plethora of visual connections between and across all levels and venues. The openness and communality of these interstitial spaces is in stark contrast to the deep plan incoherence more commonly found in this building typology. The venues deliver the required capacity whilst prioritising the performative nature of sport, to create an intense spectator experience with dramatic sightlines and seating in close proximity to the action.