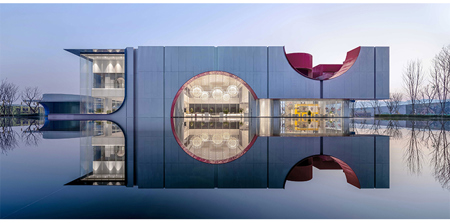 ---
GLOBAL SUNAC FUTURE CITY Exhibition Center
Shanghai Puspace Architectural Design Co.
---
Completion date:2020.11.25
Size of project:4000㎡ The project aims to build a spiritual land with elements of squares and circles. Though the building volumes appear square, they're composed of many round structures that interweave with each other. With grey as the base tone, the building facades are highlighted by red and blue hues. In addition, large colored composite aluminum plates and a piece of 13-meter-high glass were utilized to create a wonderland for adults. The project applies mixed tones to the architectural volumes, and adopts a unique jointing method instead of conventional hemming approaches for nodes. The project adheres to the concept of sustainability, and pursues a holistic design that reduces environmental impact and blends with the environment. Low-E glass and oxide firms were utilized. The protruded design of the building volume helps avoid overheating in interior spaces, and can reduce energy consumption by 35% in combination with air conditioning. The overhanging structure on the south side of the building provides a good shelter in summer, and the rooftop terrace provides natural ventilation and an additional outdoor space. Besides, the building is equipped with sewage treatment facilities and rainwater recycling system to clean and recycle water resources. Moreover, the project adopts pavement with excellent permeability performance to cope with flood.