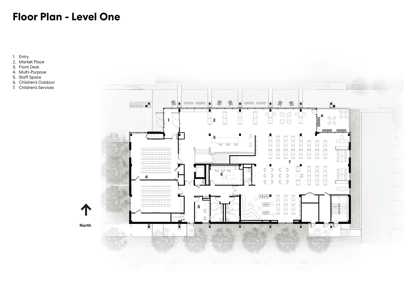 ---
DC Public Library - Southwest Library
Perkins&Will
---
The new Southwest Library will replace the existing branch library at 900 Wesley Place SW. The new library achieved LEED Platinum Certification for environmental design, integrating energy and water conservation strategies and environmentally responsive materials, sourced regionally.
An emphasis on connection to the surrounding community has shaped the design development process. The current design hopes to highlight the new park adjacent to the project, give a sense of arrival, feature a flexible plaza, be a sustainable site, maximize connection to the outdoors and natural light.
While designing to LEED Platinum standards and using environmentally sensitive energy and water conservation strategies, our team is also drawing on research that has identified library trends, including increased public space, adaptable technologies that meet patron needs, and greater flexibility in the arrangement of space. The high-performance façade will capture diffused northern daylight, provide maximize visibility to the building's surroundings, and optimize energy conservation. Sustainable aspects include a living green roof to produce oxygen and absorb runoff, along with photovoltaic panels that collect solar energy. The exterior will feature an inviting porch and balcony, while natural bio-swath vegetation will enhance the park-like surroundings.