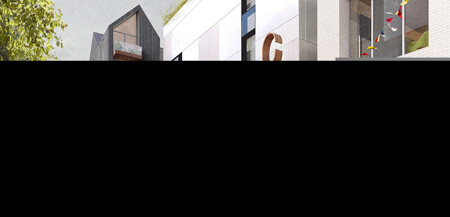 ---
Circus Street
shedkm
---
Inspired by its community and location, Circus Street is a mixed-use development by regeneration specialist U+I, transforming a derelict area of Brighton – previously housing a fruit and vegetable market – into a bespoke new quarter delivering a rich mix of uses.
Rated BREEAM Excellent, Circus Street offers sustainable living in Brighton. shedkm has created an apartment typology that is appropriate to the city's grand Regency townhouses, mansion blocks and smaller terraced streets. Tall, slender 'townhouse apartments' give the feel of a more organically evolved development.
Circus Street provides high quality student accommodation servicing up to 450 students in the heart of Brighton. All accommodation has been designed to a high environmental standard with measures including photovoltaic panels, and green roof systems to encourage biodiversity.
Circus Street will deliver a highly flexible, elegant office building with 30,000ft2 of floorspace for corporate tenants and with managed workspace. At ground floor, retail units are provided to activate facades and the streetscape.
A new stand-alone building designed for South East Dance connects to a public space providing opportunities for outdoor performance. Landscaping creates high quality public realm, with textured paving and planting to give seasonal colour. The building incorporates a feature escape stair, designed as a sculptural element that corkscrews down the height of the building, referencing the movement of dance.
The overall approach to the masterplan aims to maximise space available for public realm, green space or programmable events space, embedding the notion of community and social interaction at the heart of the scheme.