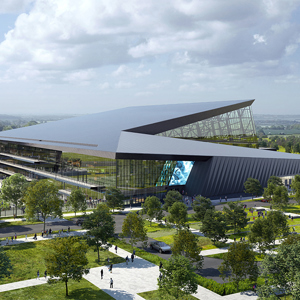 ---
Carolina Panthers Sports Performance and Event Center
Populous
---
The new Carolina Panther's team headquarters features a world-class sports performance and event center, offering its region entertainment, dining, retail, athletics, and medical care. The $1 billion facility includes: headquarters offices, indoor practice facilities, outdoor practice fields, an indoor facility to host championship games, music concerts and corporate events, and a premier orthopedic sports medicine facility.
Taking its cues from the quarries of South Carolina and the City of Rock Hill, Populous introduced its design as "The Rock". Key conceptual principles were: * To think football and beyond * To be smart and state-of-the-art * To be authentically Panthers
The facility's entrance creates a moment of significant impact - a series of canted glass walls, articulated metal panels and LED displays are choreographed to captivate visitors, culminating in peaked rooflines that rise toward the southeast. The west lobby opens to a social gathering space for café style dining, impromptu meetings, and multi-purpose events.
A pavilion to the north houses the facility's indoor playing field, and an outdoor playing field beyond. To increase capacities and integrate indoor and outdoor space, the pavilion's two 80' tall operable glazed doors open to transform the complex into a spectacular space for concerts and live events.
The Rock offers opportunities for expansion through strategically identified spaces within the building, providing flexibility well into the future. The Carolina Panthers Headquarters will provide the team, its partners and the community with a best-in-class facility that will elevate elite athlete training and sports performance to the next level.