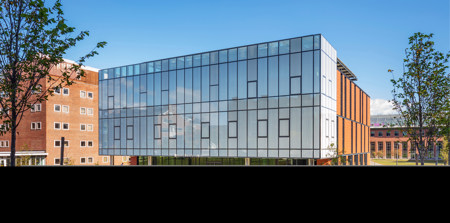 ---
Anonymous Hall, Dartmouth College
Leers Weinzapfel Associates
---
Client: Dartmouth College

This project reuses and adds to a vacant 1960's library in the heart of the medical school quad, transforming it into a vibrant administrative and social center for the Graduate School of Arts and Sciences and a hub for the north campus. The 32,995sf Anonymous Hall project—as well as new entrances for its surrounding buildings, a wide pedestrian bridge, and new circulation between buildings—is transforming the college's least compelling area into a well-scaled part of this historic campus.
The addition's main floor houses the building's lobby and a café, with an adjacent terrace overlooking a newly formed green. Tied together by a spiral object stair visible from the south lawn, the building's upper floors contain faculty offices, classrooms, and places for student gathering. The penthouse level features a solar-paneled canopy and a south-facing planted terrace that overlooks the iconic main campus.
The graduate student lounge in the walkout basement opens to a protected courtyard below a pedestrian bridge.
A structure in a cold climate, the choices of high R value terra-cotta-clad walls, solar panel canopy, triple-glazed windows, and south-facing glass with an expanded metal interlayer to limit summer sun create a building with a low embodied energy that approaches net zero energy use. This low operational carbon building is further improved by reusing the existing 1960's concrete and steel structure achieving low embodied carbon use.