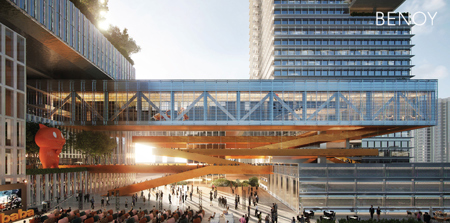 ---
Alibaba Central China Headquarters and Industrial Complex
Benoy
---
Alibaba's Central China Headquarters and Industrial Complex is located in the Xudong business district at the core of Wuhan's inner ring. It covers a total area of 44,654m2, with above-ground GFA roughly at 300,000m2, with two eco office towers, 280m and 190m in height respectively, with a total GFA of 210,000m2, and a new retail commercial hub covering 90,000m2.
The development implements Alibaba's hybrid digital ecosystem and enhances Alibaba's presence in central China by driving the transformation of its brick-and-mortar businesses. This project will create an intelligent industrial cluster to support talent, entrepreneurship, work and life in Wuhan.
Following in-depth research into Alibaba's corporate culture and interaction between its offices and businesses, Benoy formulated the AliCampus concept and proposed creative spaces such as Challenge Avenue, Ideation Space, Resilience Space and Healing Corner, to appeal to younger employees and inject new energy into the city. The team also reconstructed these space units via the concept of a Kongming lock–a traditional Chinese wooden puzzle–into the structure. Responding to the new business requirements of technology companies, the team combined the spatial needs of B2B and B2C enterprises to form a varied and dynamic spaces which components interweave and interact with each other.
Unique shading eaves for the tower and wind environment simulation analysis demonstrate our keen understanding of Wuhan's regional climate. Passive energy design strategy keeps indoor space warm in the winter and cool in the summer, and ventilation units placed in each tower curtain wall unit effectively reduce energy loss.