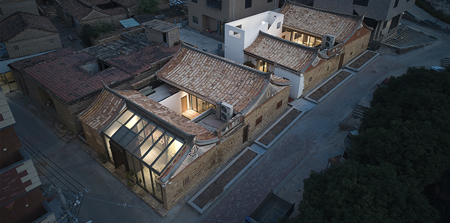 ---
Xiangyuxiangyuan Home Stay
The Design Institute Of Landscape & Architecture China Academy Of Art
---
This project is located in Dazhai Village, Xiang'an District, Xiamen, which is composed of 3 ancestral houses of different ages and 2 new buildings.
Because the three traditional houses have a collapse, so the designer uses "implanted geometry "and "implanted steel frame" to organize the architectural renovation. The entrance of the building uses fall height glass windows which gives a more interactive community communication, as the structural function to fill the collapsed part of the house. The white building with geometric windows and an open roof integrated also connects the originally independent buildings into a collection of communities. Building No.1 as an example:geometric main with three windows in different directions, introduces a natural view into the interior. The new simple buildings have also been rebuilt on both sides of the atrium patio to slow down the depressing atmosphere.
We replace bricks with glass to increase indoor lighting. We make full use of the local material to keep it in a traditional way. Many ethnic elements are used in the interior. Natural stone is used as the main wall; the original wood from the building is reused for roofs, furniture, and installation; the unique porcelain tile is made into the flooring of the balcony connecting the exterior with the interior. Locally made hemp yarn wraps the stair railing, giving people a primitive touch. The interior material creating a unified atmosphere, passing in the surrounding environment, and retains the original simplicity and tranquility of the village.