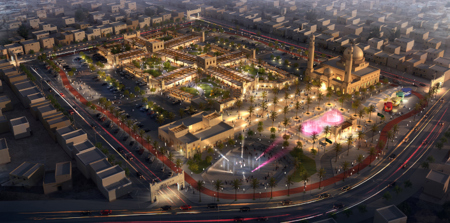 ---
Wednesday Market
Omraniyoun Consulting Engineers Partnership Alahsa Client Name update: Municipality - Kingdom of Saudi Arabia
---
Established more than 150 years ago, the Wednesday Market is a famous weekly market in the city of Mubarraz in the Al-Ahsa governorate. The popularity of the market was due in part to the historical site of the city which caters to the daily needs of the residents, which is an integral part of the social fabric, where culture and commerce intermingle.
The market was unorganized and the activity was limited to certain hours on one day of the week. furthermore, the neighborhood lacks cultural, entertainment and social and sport activities.
The Municipality of Al-Ahsa's vision was to utilize the site to its fullest addressing historical, cultural, social and economic issues. The proposal is in line with the needs of the various stakeholders and the function of each sector (commercial, entertainment, cultural, educational, sports).
The project emphasizes linking the neighboring areas, to facilitate access to and from the project site. The market is set up with modules to create maximum flexibility. This big gesture of a covered market with gates in a very subtle way creates an extension of the public space where very various functions occur like (market hall, interactive dry fountain, open amphitheater, food trucks, children's playground, jogging track, exercise facilities, green spaces, mosque).
Distinguishing the use of designated space is proposed by providing greater enclosure to sitting places, medium enclosure in semi-public spaces, and a higher degree of openness for open public spaces. The design provides a new sustainable livelihoods opportunity and services for locals and visitors.