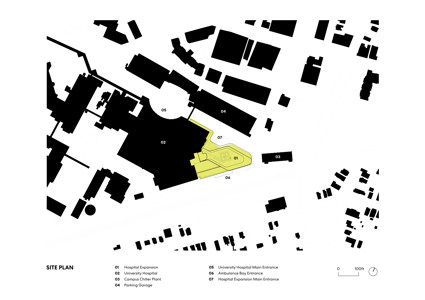 ---
University of Virginia, University Hospital Expansion
Perkins&Will
---
Focused on healing and well-being, the University of Virginia (UVA) Health System's new emergency department and in-patient bed tower offers an enhanced experience for patients and staff. The building is designed to connect people to the calming effects of nature, reduce the building's environmental impact, and allow for future flexibility to accommodate evolving medical technology and best practices.
Integrated into a historical campus that honors the natural landscape of the Shenandoah Valley, the expansion is a calming, welcoming, and distinctive building designed with the diverse needs of patients in mind at every step. The expansion extends from the existing hospital with a fluid, curvilinear massing that creates a new entrance to the University Medical Center and allows access to views from patient rooms to the surrounding landscape.
Designed for change and resilience, the hospital was recently able to respond swiftly to the COVID-19 pandemic: 84 patient rooms originally scheduled to open by May of 2020 were seamlessly converted to negative pressure rooms to serve COVID-19 patients.
Biophilic strategies such as green roofs and planted terraces enhance well-being, further reinforced by wayfinding graphics of native flora and fauna. Abundant natural light and views of the Blue Ridge Mountains are integral in patient and family areas, staff break areas, surgical areas, and adjacent to operating suites.
High environmental performance features include net-zero water strategies, chilled beams, green roofs, and metal fin façade designed to reduce glare and heat, and lower energy consumption.
Project size is 40,877 square meters.