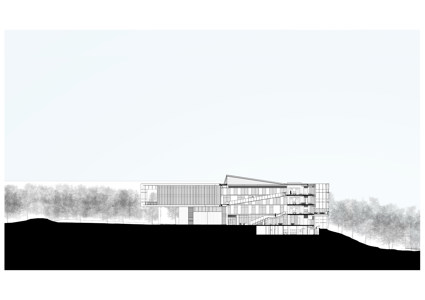 ---
University of Cincinnati Health Sciences Building
Perkins&Will
---
The University of Cincinnati Health Science Building combines high performance construction and cutting-edge design to create a sustainable, 21st century learning environment.
The Health Sciences Building houses administrative office space, faculty offices, classrooms and interdisciplinary space, and is a key part of an integrated healthy campus, encouraging collaboration with all Health Sciences, Engineering, Arts and Sciences, and DAAP.
The building's program has been distributed into two splayed bars which form the central atrium space that serves as the hub for social and collaborative intersection. Three generous monumental stairs are distributed in and around the central atrium and encourage pedestrian movement between the levels, reinforcing the notion of healthy activity through design, while also creating opportunities for serendipitous encounters and exchange of ideas.
All learning, professional training and research spaces are flexible and adaptable to serve the changing needs of the department. The building is not only a hub for learning and training, it also serves the public and local community through its clinic and other outreach programs.
Project Size: 10,220 sqm