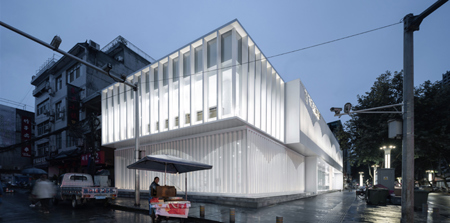 ---
The Renovation of Ankang Library
United Units Architects
---
Located in the old town of Ankang city, the original Ankang Library was opened in 1984. Over the duration of time, the library facilities had fallen behind the information age, prompting a need for a comprehensive regeneration program.
The renovated Ankang Library consists of two buildings: the North Building facing the street and the Main Building positioned in the centre of the courtyard. The design principle aim was to rejuvenate the old library into a new, open and welcoming community space, highlighting and creating a strong contrast with its existing context. Since opening, the new library has reactivated the cultural life of the local community, and the number of daily visitors has increased from 10 people to 3,000 people.
The two buildings adopt a modern curtain wall system, forming a concise massing and pure colour. The transparent glazing combined with the delicate perforated aluminum cladding create an effect akin to a halo. When the two buildings are seen with the vibrant and disordered old city, the following strong contrast brings unexpected drama and contrast. Forty years of passed time are visible with these two urban realms, like a surreal space-time dislocation.