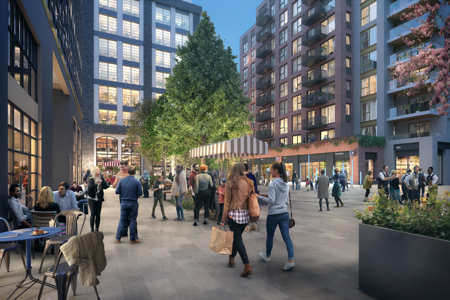 ---
The Nicholson Quarter
JTP
---
Located in Maidenhead in Berkshire, the redevelopment of the Nicholson Shopping Centre will see the comprehensive regeneration that will transform an outdated 1960s single-use shopping centre into a new, vibrant, mixed-use quarter. The project is one of the first 'shopping centre to town centre' regeneration initiatives in the UK, designed specifically to address the changing landscape of high streets in our towns and cities.
JTP led one of the largest community engagement processes the borough has ever seen, and saw several thousand people, including many schools and colleges and hard-to-reach groups taking part in multiple workshops and hands-on planning. Reflecting the climate emergency, the project is one of the most sustainable proposed in the borough and includes considerable provisions for cycling, electric vehicle charging points and an extensive tree planting programme.
The unique opportunity will transform and reimagine the site into a ground-breaking, people-focussed, mixed-use urban quarter that brings together 660 new homes, workspace for over 2,000 people and flexible space for 60 shops, retail and restaurants, all encompassed by 1.5 acres of public space to re-establish a thriving day and evening economy for the local area. These spaces will accommodate formal and informal community activities and events, while promoting biophilia for a greener town centre.
Responding to a strong demand for 'out of London' urban locations, the new homes will be designed to support home working, which has proved increasingly necessary since the challenges of home-working due to COVID-19, with larger rooms, business centre amenities and private open space.