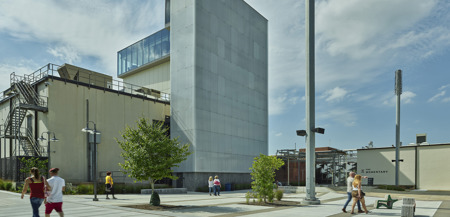 ---
The Momentary
Wheeler Kearns Architects
---
Client: Crystal Bridges Museum of American Art

The Momentary is a one-of-a-kind multidisciplinary visual and performing arts venue creatively repurposed from a 70-year-old decommissioned cheese plant.
The project transforms a patchwork of existing concrete and masonry buildings into a fluid arts experience. Rather than attempting to blur its newest additions into what existed before, contemporary interventions of glass and steel appear to float, superimposed on to the former factory. A frit pattern, inspired from ceremonial weaving designed by a local Osage artist, playfully changes in scale and transparency as it moves across the different glass elements to pay homage to the site's history as Osage hunting land.
Parked at the former loading dock, a steel and glass "trailer" creates a sense of curiosity, signaling that something new is happening. Atop the 70-foot tower, clad in a glass rainscreen system that doubles as a projection and performance surface, a new addition sits slightly askew with a glass floor that allows views all the way down.
Though the factory has been transformed, the many layers of the building's past remain in plain sight — a visual shorthand for the simple fact that this place can exist nowhere but here.
Inside, visitors puzzle out the physical remnants of the building's former life—enjoying a concert in a space where tanker trucks delivered milk, or in a gallery surrounded by the complex piping that once functioned as the former plant's circulatory system. In every room, the Momentary allows the building's relics to disrupt narratives with stories and curiosity about its past.