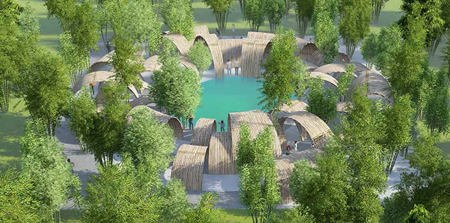 ---
The Garden of Forking Paths in Shunan Bamboo Sea
Yunchao Xu/Atelier Apeiron/SZAD
---
In the Shunan Bamboo Forrest in Sichuan of China, is there a unique geological landscape called Gem Lakes, which are small blue ponds formed by underground water containing copper sulfate. The site is right by a small Gem Lake in a bamboo forest around the village. Our client wants to donate a community center to host a variety of local cultural events.
In this project, building disappears and nature reveals. Our primary strategy is to lead life into natural field by hand-making the building in its original way. After a long discussion with our clients, we decided not to use any resources from outside the forest. Plenty of bamboo, pebbles from the river and natural water of the pond, become all the materials of the house, so that the new structure gets along with the ecology system around.
Twin Archimedes spirals are applied in the plan with two paths, by which 36 bamboo arch units with different spans surround the center of twin spirals. These intersected arches generate a garden of void and solid. Each arch is interwoven by bent fresh bamboo with local traditional crafts as both partition walls and roofs. This combination also creates a series of interconnected corridors, bringing more possibilities and interesting twists in forking paths. In future, these bamboo arches can also be reassembled or recycled according to specific space requirements.
Project Video https://vimeo.com/400887562/a4dda985a4