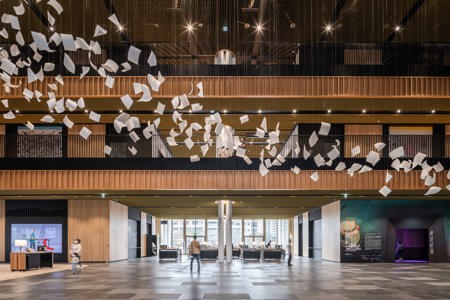 ---
Tainan Public Library
Mecanoo and MAYU Architects
---
Client: Cultural Affairs Bureau, Tainan City Government, Taiwan

A home for discovery and learning, a library must be intimate, flexible and multifunctional while facilitating new possibilities. This library builds on this and takes from Tainan's rich history. It is inspired by the local culture, becoming home to the city's cultural heritage, modern art, music, films, over a million books and of course, is equipped with the latest technologies of a modern library.
The inverted stepped shape of the library creates cantilevers, below which are four sunken patios for outdoor activities. The crown of the building is surrounded by vertical slats with carved flower patterns, reminiscent of the decorative latticed windows in the old town. From these uppermost levels, a beautiful view of the city is on display.
Upon entry, you are greeted into a living room of the building. Art is exhibited everywhere, not just to look at but also to touch and play with. A sculptural staircase adds another playful element to the building. The children's library with imaginative bookcases and an adjoining patio under the awning for outdoor play is situated below. Above this lies a media library, a library for teenagers, the general collection and a floor dedicated to the heritage collection, as well as multifunctional spaces for classrooms/workshops and a café. At the crown of the building, you will find roof gardens, the theatre and conference hall. Furthermore, the building has an art gallery, maker space, bookshop and Braille library. The rational construction of the library allows maximum flexibility, preparing for any future changes.