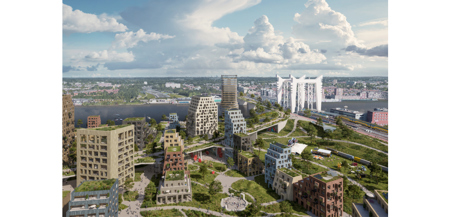 ---
Spoorzone Dordrecht
Mecanoo
---
Situated in the heart of nature in the Dutch Delta, Dordrecht is a historic city of innovation, trade, maritime industry and culture. Both city and region are growing and facing major spatial challenges. The Spoorzone Dordrecht vision (Railway zone) outlines a future for the city by 2040. This growth is about an increase in housing, exciting public spaces and parks, additional stations, new walking and cycle paths, schools, cultural events and places to stay.
The vision builds on the versatile legacy and character of the existing city, the beauty of the historic city and nature of the island, but also the raw elements such as infrastructure, railways and industry. Places that once made the city are now transformed into new icons of Dordrecht.
The waterfront residential programme will largely transform existing business parks and buildings. These new areas will be built from wood sourced from local production forests, just one example of strengthening a local and sustainable economy.
Infrastructure that is normally a barrier becomes a place to stay, a connector or a space for development. The Maaspark is currently a car park and rail yard, soon to be an civic cultural area. Stadsbrug becomes a destination as a green city park instead of an elevated motorway. Weizigtpark is enhanced with a central station extension where nature and city meet as connecting green fingers over rail-tracks into the historic centre. Urban spaces where living, nature, adaptive re-use and accessibility will reinforce each other and give meaning to a future Dordrecht.