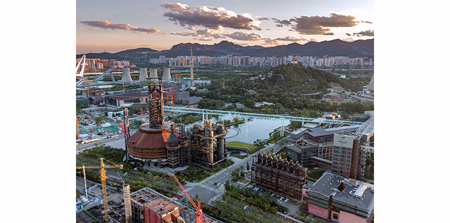 ---
Shougang No. 3 Blast-Furnace Museum
CCTN DESIGN
---
The project covers an area of about 2.53 hectares and completed in 2019.
The design uses 3 core strategies, which specifically refer to keeping the authenticity of heritage in physical environment, adding new functions to make the heritage blend with social life and showing respects to history via exhibition arrangements and spatial devices.
The new and old buildings stay in a harmonious relation. The renovated part retains the holistic features of the industrial heritage while implanting new functional spaces inside. And the newly-built part utilizes the minimal volume and landscaped architecture to avoid interference on the style of heritage.
Some parts of the blast furnace itself were turned into sight-seeing areas where visitors can interact with the heritage, environment and the city. These include the casting house platform, canopy platform, hot-blast stove platform and the rooftop platform.
The underwater parking lot meets the requirements for transportation infrastructure and greatly improves the convenience and accessibility of citizens. At the same time, elements, such as the underwater exhibition hall, Wall of Honor and Pillar of Honor, enrich the spatial experience and also enhance the cultural and social value of the heritage.
On the east bank of the Xiuchi three "hilly-like" landscaped auxiliary buildings were added, which include academic lecture halls, temporary exhibition halls, souvenir sales and supporting restaurants. Those spaces allow more possibilities for the citizens to relax, communicate, and enjoy exhibition activities at the heritage site, thus allowing material and functional safeguard for the heritage to enter daily urban life.