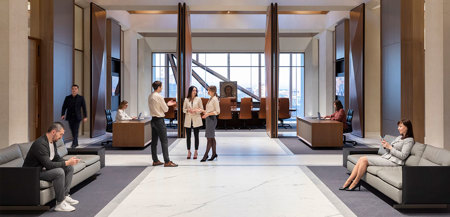 ---
RMK Headquarters
Foster + Partners
---
The new headquarters of RMK, one of the world's leading producers of copper reimagines the conventional cellular office to set new standards in quality, comfort and flexibility. Completed in September 2020, the 15-storey building's innovative modular office units are enveloped in an energy efficient enclosure, which provides a distinctive symbol for the organisation in Yekaterinburg. The triangulated form draws inspiration from the chemical structure of copper, and the crown of the building integrates RMK's new logo – a rebranding which has, in turn, been inspired by the architecture.
Each two-storey module comprises a pair of offices, stacked one on top of the other – this is expressed externally through the double-storey cladding module. The modules are arranged in rows on either side of a central hallway, which functions as a break out space, with lounge seating and views of the city through the glazed lift shaft. At level fifteen, the space is top-lit to create a flexible space for company-wide gatherings and events.
Responding to Yekaterinburg's wide temperature range between seasons, the balance between solid and glazed areas is designed as a reaction to low level winter sun, while mitigating the heat of direct sunlight during the summer. The site is next to a public park and overlooks the city and river – the design enhances the connection with this setting. Extending this greenery to the base of the building, the footprint is shifted to create a private garden for staff.