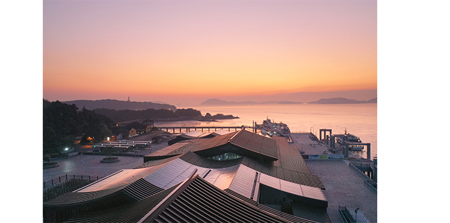 ---
Putuo Mountain New Passenger Transportation Center
The Architectural Design & Research Institute of Zhejiang University
---
Client: Management Committee of Putuo, Mountain Scenic Area

The project is located on the Mount Putuo Island, Zhoushan, Zhejiang Province. It is the sole public port of the Putuo Mountain Scenic Area with a total construction area of 11,778 m2.
The project integrates dock area, ticket office, tourist distribution area, waiting area at the exit and etc. The scenic resort receives more than 12 million visitors each year. Especially on festivals and holidays or days with extreme weather, the massive number of people poses a huge challenge on the capacity of passenger transportation center. The original center is too cramped to accommodate the increasing number of the tourists.
The design keeps the original layout that the entrance is on the east and the exit on the west, and builds an extended platform as the foundation of the new passenger transportation center. Moreover, the site of the former transportation center is transformed into a square, which not only extends the indoor and outdoor spaces but also guarantees the regular operation during the construction period.
Different from the traditional transportation architecture that acts as the landmark with huge volume, it uses the interlaced surfaces to reduce building volume and lowered eaves to alleviate visual stress, making the dock a sacred place where passengers can start their pilgrimage.
Inspired by the traditional Chinese architecture, this design fuses modern materials with a simple design language, showcasing the uniqueness and philosophy of traditional Chinese architectures.