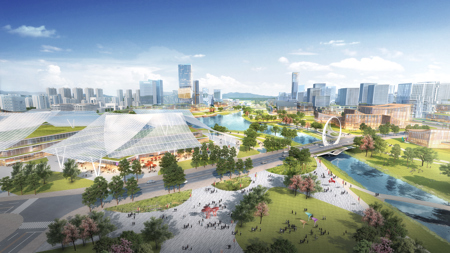 ---
Pangong Riverside Ecological Business District (Panggong EBD)
WILCOTER x KCAP
---
Of Xiangyang's four new districts, the Panggong Economic Business District (EBD) is considered to be the most promising. Aiming to become a role model for future, low carbon (neutral) cities KCAP and WILCOTER aim to protect and maintain the rich cultural and ecological assets by applying the 'wedding cake principle'. Serving as a design guide, this allows us to integrate several Sustainable Development Goals (SDGs). At the same time, we propose a resilient, holistic framework that balances system independence and system integration. This framework serves as the basis for the development of Panggong EBD.
Panggong connects the rivers and mountains, inspiring a green and innovative economy while building a diverse and healthy community. The concept plan continues the ancient pattern of twin cities, side by side in Xiangyang. The city and water symbiosis is continued for the layouts of the two cities Xiangcheng and Fancheng, arranged as the Headquarter Square City and the Smart Financial City.
Through the central axis of Xiangyang's ancient city, the project combines old and new landmarks with public space to create a five-entry space with Hubei characteristics: "city-gate-street-community-garden". The outcome is a nuanced interplay between modernity and history. A cityscape that resembles a poetic landscape, including important sights and the mountain skyline. Within this atmosphere, the modern city integrates harmoniously with history and nature.