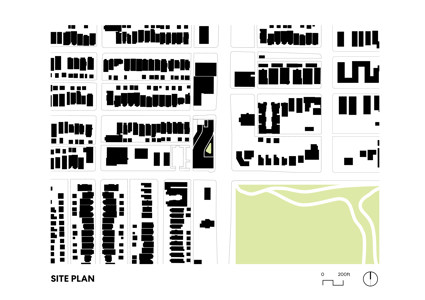 ---
Northtown Library and Affordable Senior Housing
Perkins&Will
---
Northtown Affordable Senior Housing and Public Library represents a new urban typology, co-locating affordable senior housing with a community library to encourage life-long learning, collaboration, and exploration.
Modular housing units wind above from the west to the east, enlivening the typical residential corridor while creating roof gardens that acknowledge the public park to the east and the quiet residential neighborhood to the west.
Double height glazed lobbies connect the library to the senior housing, inspiring community interaction between the inside and outside, the public and private.
The library is anchored at both ends with vibrant community spaces, one showcasing teens and technology, while a community room and lobby at the opposite end house an artist-in-residence, available to the community after regular library hours.
Creating one large open space for visual connection throughout also meant creating intuitive identities and zones for patrons. Shaping of the stacks and the lighting above helps create paths and destinations visible across the space.
Project Size: 6039 sm