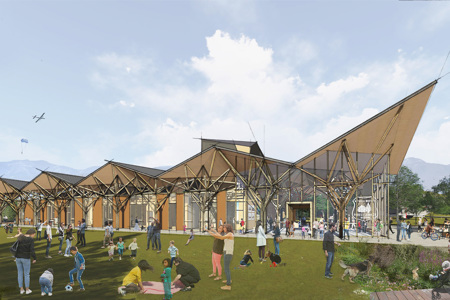 ---
National Museum of Forest Service History
Leers Weinzapfel Associates
---
Copyright details: N/A
The Conservation Legacy Center for the non-profit, National Museum of Forest Service History in Missoula, Montana will educate the public about the history and ongoing conservation work of the United States Forest Service (USFS). The design is inspired by the qualities of these forests as valuable recreational and economic resources throughout history; it also echoes features of the local surrounding mountain landscape.

The Center will be itself an exhibit, featuring representative wood species throughout the US, wood products developed with USFS Forest Products Lab, and an array of mass timber products such as glulams, cross laminated timber (CLT) and Mass Plywood Panels (MPP). Tree-like columns will exhibit timber craft and advanced engineering; these will showcase sixteen representative trees from national forests. The unique two-way span capability of MPP is exhibited in a folded roof geometry over the south facing portico and the main lobby. The predominantly wood building represents a new focus on sustainable way of building, with low embodied carbon, renewable materials, and carbon sequestration.

Visitors will experience both curated exhibits within and views to the Museum campus. Supplemental features of the center and campus provide additional visitor experiences such as archival repository processing, forested landscape with featured specimen trees among exhibits to the north, and the dramatic open vista and mountain views to the south. The south facing portico incorporates passive cooling and heating principles, by blocking hot summer sun while welcoming winter sun. A roof deck provides panoramic views of the campus and access to a fire-tower.