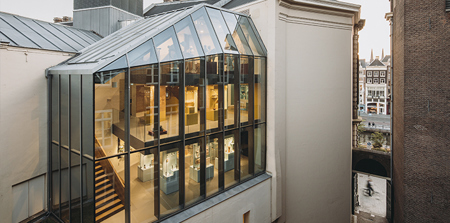 ---
Museum infill and restructure of the Allard Pierson institute, Amsterdam
Atelier PRO architects
---
The Allard Pierson is established in a listed monument located on the historic site named Oude Turfmarkt in Amsterdam, that had been used by Dutch Bank De Nederlandsche Bank (DNB) until the 1970s.
It features a neo-classical style similar to the adjacent premises of the University of Amsterdam Special Collections Library, of which the restructure also had been designed by Atelier PRO in 2007.
Atelier PRO architects designed the internal restructure and renovation for the Allard Pierson museum in Amsterdam. The museum is part of the knowledge and heritage institute of the University of Amsterdam. A transparent infill was realized within the existing building lines.
The Allard Pierson institute provides access to the public and the scientific community to the Amsterdam University collections. They cover internationally renowned collections in the fields of archaeology, cartography, book history, Jewish culture, church history, zoology, music and graphic design. It is also the place that offers space for exhibitions, studies, conferences, meetings, lectures, a museum café and a shop.
Previously the collection was scattered throughout the city. The institute now accommodates all the university's heritage collections on one place. By gathering the collections under one roof, the Allard Pierson has a much better exposure towards the public and relates more evidently to academic events. Moreover, the improved transparency appeals to a wider audience, considering the large number of visitors who pass by this Amsterdam historic site. Therefore, more space was required, thus making better use of the characteristic old buildings and improving circulation.