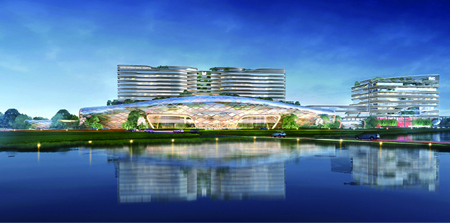 ---
Midea Heyou International Hospital
BAI Design International
---
Client: Heyou International Hospital

Located in Foshan City, Guangdong Province, Midea Heyou International Hospital will be a comprehensive, large scale, tertiary medical complex.
The design is inspired by the ancient water townscape of Shunde, with its crisscrossing rivers, resulting in a garden-style hospital that is symbiotic with nature. We are committed to focusing on both the public and artistic aspects of medical architecture, creating an art gallery experience of interior spaces with healing functions. The gateway to the building is a "urban health living room" that fully integrates technology and green energy-saving strategies.
The planning layout adopts the landscape axes to open up the spatial vision, and through the symbiotic architectural environment and experiential medical services, a healing spatial environment is created, making the whole building a health park that can be experienced.
The design of the medical building reflects the concept of "whole life building", such as the "plug-in" modular medical unit layout, which can grow outwards with future functional renewal, and this kind of growing architectural characteristics is more conducive to the future long-term functional expansion. The building has been designed to facilitate future functional expansion.
The building is a true zero-carbon, energy-efficient urban living room using a variety of proven technologies and materials from international to reduce energy consumption, allowing energy-efficient technology and health care to co-exist. The roof is integrated with photovoltaic/solar energy and the curtain wall, signifying the idea of technology returning to nature while solving part of the building's energy consumption problem.