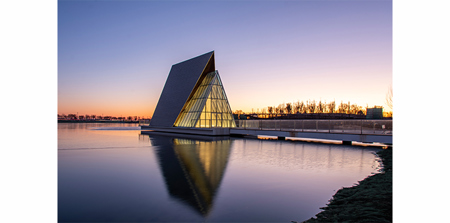 ---
Lighter City • Central Park Urban Life Experience Center
Shanghai PTArchitects
---
The architects expected to adopt a positive design strategy to integrate the buildings with the environment. The team paid attention to strengthening the publicness of the venue, while also incorporating cultural themes and humanistic spirit into the buildings.
The project is located within the planned central park of the Tianjin Future Science and Technology City. The buildings were constructed beside a lake. The design needed to integrate the existing environment and real life into the space and enable visitors to embrace lakes, pastoral scenery and forests. In so doing, the architects hoped to make the buildings a dynamic, lively presence.
The architects expressed the imagery of "water, landscape and stone" via abstract architectural languages, hence created a picturesque, harmonious and natural venue. The design blurs the boundary between interior and outdoors, and enables people to experience the dialogues between the vertical spaces and emotionally resonate with the architecture and environment. It seems that the buildings are growing from nature. The simple geometrical building volumes create a "stone cluster" that looks both real and unreal.
To harmonize with the natural surroundings, the architects endeavored to create a pure and simple architectural form by adopting minimalist design languages. The team designed unique geometrical spaces to highlight the architectural theme, made the most of the natural park environment, and outlined the contours of the architecture via simple sculptural lines.