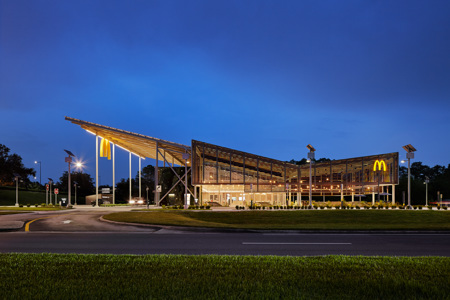 ---
Kebony McDonald's Flagship Global Restaurant
Ross Barney Architects
---
The world's first net-zero quick service restaurant
The new flagship McDonald's is the world's first net-zero restaurant in the quick-service industry. Combining futuristic architecture, innovative environmental technology and the extensive of use of sustainable construction materials like Kebony wood, the striking 8,024 sq/ft restaurant, completed in July 2020, has set a benchmark for conscious design as nations, governments and the world's leading corporations strive towards a vitally important net-zero future.
Representing a vital step to securing a greener future, the flagship restaurant building, located in Orlando, Florida, responds to the Client's brief to create enough renewable energy on-site to cover 100% of its energy needs on a net annual basis. Energy is generated onsite by 18,727 square feet of photovoltaic panels, 4,809 square feet of glazing integrated photovoltaic panels (BiPV), and 25 off-the-grid parking lot lights produce more energy than the restaurant uses.The striking structure also makes extensive use of Kebony, a global leader in the production of sustainable wood, which has been listed as one of the world's most promising clean technology companies in the Global Cleantech 100 seven times to date.
As an energy intensive building typology, the McDonald's Flagship – Disney explores its role as a sustainable steward, revolutionising an industry, and its customers, to be more thoughtful, strategic and impactful.