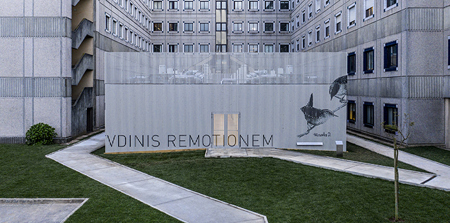 ---
ICU-Pedro Hispano Hospital
Ventura + Partners
---
Client: Unidade Local de Saúde de Matosinhos

Completion Date: 5/5/2020
Area: 4.467 sqft
In response to the rampant growth of the Covid-19 pandemic, it became urgent to formulate an emergency project that increased the number of rooms under negative pressure in Pedro Hispano Hospital's Intensive Care Unit (ICU).
This extension doubles the number of ICU beds, reinforcing the hospital's response capacity against the pandemic, while also being a new attribute for the hospital's regular service. The new ICU wing includes 11 individual negative pressure rooms, equipped with antechambers that control the airflow and the pressure between the room and the shared space of the new unit. The physical continuity of this structure with the existing ICU, through a connecting corridor, ensured efficiency gains in managing processes and human resources.
The construction system used guarantees the project's ecology and sustainability, based on a low generation of waste, a high thermal and energetic performance, and an 80% reduction in CO2 emissions. Brightness, fluidity, and tranquility are combined in a unit designed to be functional and efficient, but where aesthetics are not overlooked.
The unit was created through a pro-bono model of continuous collaboration between architects and the ICU team – to ensure total adaptation to patients and healthcare professionals' needs – and was built in 25 working days.
In a moment of uncertainty and fragility at a global level, this project symbolizes the characteristics needed to overcome the next challenges that the world faces: the joining of forces, the search for community solutions, and the achievement of the seemingly impossible.