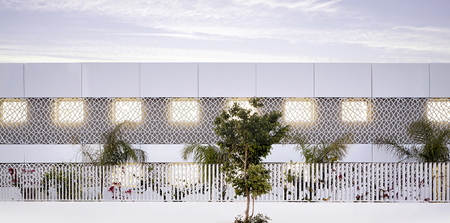 ---
Hospital Oncopole Oran
Lecoc Arquitectura
---
Client: Oran Santé

The Oncopole project appealed to Algeria's traditional architectural charm and wisdom to accommodate a place for itself within the landscape of such a legendary Mediterranean city as Oran.
This project is committed to healthcare, with the best medical equipment and team, of the highest quality for the care of oncological patients.
From the beginning, the building was devised with the idea of developing ample space around a central courtyard. A courtyard imagined as to deliver light and scope to the core of the building. The central void organizes the visitors' flow and provides adequate places for rest and connection within the courtyard, the heart of the building, and offers crossed views of the interior spaces.
Three are the elements combined in a fluid and alternated manner: the opaque, perforated and transparent elements. This arrangement allowed us to arrange multiple configurations within a strict modulation according to the diverse needs: sun protection, views, opacity or representation.
A vital highlight of the project was the treatment of light in space. Inside the building, light tones chosen for the coatings predominate, favouring a bright atmosphere and providing tranquillity and serenity. The light is shadowed so that we have different levels of lighting depending on the use of each space. Through the building's skin, we were able to formulate the project's limits.
Elements of traditional Mediterranean architecture, such as the Algerian "musharabia", were reinterpreted in a contemporary way, to link the building to the culture of the place.