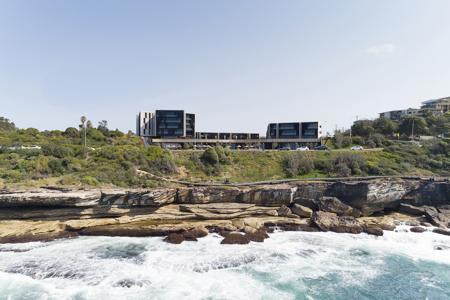 ---
Harbord Diggers Club
Architectus + CHROFI + JMD Design
---
While the Harbord Diggers Club was born during hard times and created by working class people, the club today is re-imagined as an Intergenerational Community Hub' to both broaden and deepen its relevance to today's community.
The design draws upon the attributes of traditional hilltop villages that are simultaneously coherent through their materiality; and complex, with each building within the village being unique. Sited on one of Sydney's iconic headlands, the materiality is directly informed by the spectacular coastal sandstone formations and the native landscape.
The site is structured around a central courtyard, an ocean terrace and a grid of public domain connections linking to the coast and nearby Freshwater.
The design conceals much of the program within the contour of the land to control visual impact with the seniors living village organised around the central courtyard, and the club and associated public facilities located beneath.
The outcome is a diverse set of facilities nestled gently into one of Sydney's great coastal headlands and cleverly arranged to amplify the health, social and lifestyle benefits of multigenerational coexistence - a place where seniors can expect to live a longer, healthier life.