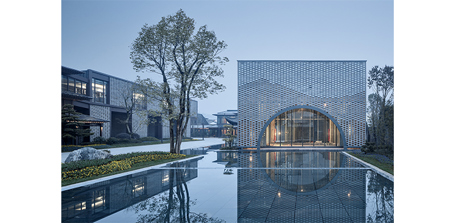 ---
Fengqiao Experience Exhibition Hall
The Architectural Design & Research Institute of Zhejiang University
---
Client: Zhejiang Fengqiao Town People's Government

Fengqiao Experience Exhibition Hall is next to Fengqiao Ancient Town that is located in Zhuji, Zhejiang, China. The Fengxi River passes in between two of them. At the preliminary design stage, the project was designed to not only function as an exhibition hall, but also the south entrance to the ancient town. It was intended to be an open space at the beginning.
Following this concept, we divided the architecture into several pavilions to match corresponding exhibition topics. And then the buildings are connected by verandas inside and outside to form the architectural cluster that was perfectly harmonious with the urban texture.
Besides, two public squares are created respectively facing the city and the ancient town. They are used to hold traditional folk-custom activities, providing a popular gathering place for local people.
Inside the cluster, the water surface combined with the facade reflects the image of "a bright moon above the water surface", offering a poetic scene with traditional Chinese style.The verandas fuse with the architectural volumes to form several courtyards that pay tribute to the traditional courtyards in the ancient town.
Brick and stone materials are adopted in some parts of the building. The modern construction methods make the buildings both embody localization and modernization, rather than a simple repetition of traditional construction.
In Fengqiao Experience Exhibition Hall, there are buildings that show respect for traditional architecture in the ancient town, and reveal the juxtaposition of traditional and modern characteristics.