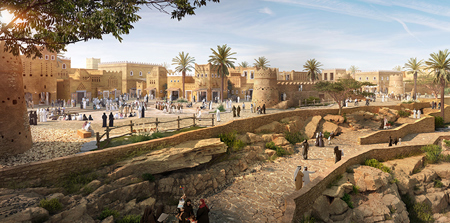 ---
Diriyah Gate
Atkins & DGDA
---
Client: Diriyah Gate Devlopment Authority (DGDA)

"Anchor Our Vision for the Future on a Jewel from the Saudi past."
Diriyah Gate master plan has been conceived around the UNESCO World Heritage site of At Turaif which represents the original capital of the Saudi Kingdom. It is one of the first major settlements and the birthplace of the ruling Saud family.
The project is located to the west of Riyadh along the Wadi Hanifa corridor which is a natural basin that runs north south through the city to the west of the site.
Taking inspiration from the context of At Turaif the project aims to create a unique district that preserves heritage, emulates traditional urban form and conserves the natural environment while enhancing it for managed use.
The development aims to celebrate the traditional character of At Turaif through a mixed-use urban district that can become a source of pride for country. It aspires to become a cultural destination with museums, galleries and educational facilities distributed across the development.
The city has been designed for convenience with facilities and amenities located within easy walking distance. These facilities have been provided in nodal locations to create focal areas for community interaction. The masterplan seamlessly connects with the surrounding city through roads, metro, bus, cyclist and pedestrian networks. Two large urban decks have been proposed that allow pedestrian connection across major city highways. The urban form is designed to enhance microclimate with narrow streets providing shade. The building form is predominantly courtyard typology which relates to traditional Najdi architecture.