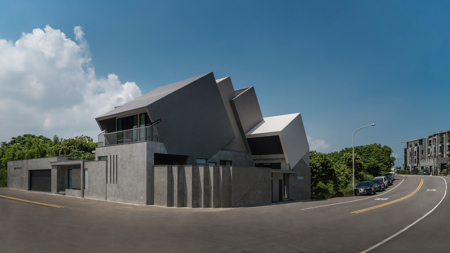 ---
Dan Mo
CHEN-WAI Architecture Integrated Design Co.,Ltd.
---
To offer owners to live in tranquility and create a vibrant living environment are the primary intents of the building. An environment can influence one's emotion which affects daily decisions. Thus, to create a place that gives the life emotions is always the content that the designer wants to express.
This project is a retirement living residence owned by a retiree who has been retired from a complex business environment but still remains with a pure living mindset. The designer chooses the lotus which symbolizes purity as it is out of the silt but not imbrued to reflect the life outlook of the residence owner while deploying architectural elements to portray the overlapping petals of lotus and the parallel pattern on the petals. On top of that, the matt-finished concrete grey symbolizing a sense of serenity creates a living environment best for the residence owner to practice a humble life. The circular/radial/linear traffic flows are planned individually on each floor to amalgamate the fluidity and connectivity amongst different spaces. The primary air circulation route goes vertically and horizontally to introduce abundant airflow with natural lighting reaching to each corner. The designer puts his effort to condense the construction methods and reduces material use. Apart from water channeling purposes of the internal and external wall, no treatment or cladding is applied to the rest of the building surfaces. Each part of this building exists for a purpose, epitomizing material minimization has more positive meaning for environmental issues.