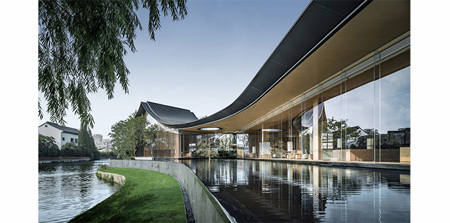 ---
China Overseas • Oriental Mansion Sales Center
Shanghai PTArchitects
---
Taking advantage of the urban greenbelt, the architects configured the building along the Cuibai River and harmoniously integrated it with nature, art and humanity.
The project borrows the essential spatial organization approach of "starting, developing, twisting and merging" commonly utilized in traditional Chinese gardens. It "starts" from the riverbank and progressively "develops" into different functional areas. Then the architectural volume is twisted and raised higher and its display surface is expanded. Visual intersection techniques are employed to enrich the layers of space. Finally, the iconic roofs are merged together to unveil the beauty of modern geometrical shapes. The project inherits traditional Chinese architectural style, and meanwhile leverages modern building materials such as galvanized steel tubes and zinc alloy roofing panels with double glued vertical to realize a streamlined design and functional practicality.
The exterior design draws on the architectural style of Jiangnan courtyard dwellings, and incorporates the elements of traditional palaces. When viewed from a distance, the whole building appears simple and forceful, like a Chinese meticulous-style painting, while, at a closer look, it is compact and practical. The double-sloped roof with a curved spire echoes the silhouette of the nearby undulating mountains. Symbolic elements of the famous local cultural heritage Family Zheng's Seventeenth House are integrated into architectural details, with painted beams and overhanging eaves showcasing the brilliant regional culture. In addition, the facade utilizes metal plates, which are twisted from nine different angles to create a dragon-scale-like artwork called "Source", so as to combine the architecture with art.