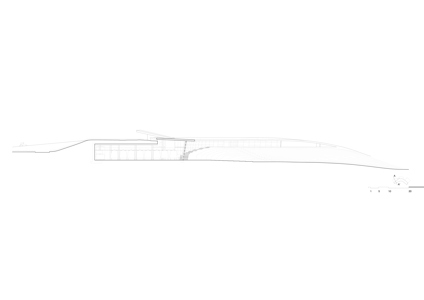 ---
Beronia Winery in La Rioja
IDOM
---
The vineyard is the leading actor. The winery is buried into the ground letting the landscape pass over it while remaining integrated into it.
In a traditional way, the winery is structured around two large program blocks (the productive program, below ground level, and the social and wine tourism program, above ground level); the project includes three section types.
These sections are designed to organization of the building based on three key bundles in the production process (warehouses, barrels and cages) that are articulated in a linear process as dictated by their function.
Each building has a different relationship with light and views, based on the limitations of the wine itself. . The roof underlines all the operation by longitudinally stitching the three characteristic sections of the project.
The social zone gravitates over them, with each stage of wine production being visible.
The activated concrete slabs and the 11 geothermal wells allows the building to take root in the earth and participate in its cycles, resulting in a respectful exchange between nature and the final product, wine. It takes and transfers energy alternately in summer and winter, in an annual balance possible due to its implantation and geometry.
More than a simple generic container of an industrial process, in which the production machinery, independent of the environment, dispatches a salable product; La Bodega of Gonzalez Byass is a holistic response to the location, the program and the production process. A space where you can enjoy the culture of wine.
Explore Twitter: @IdomGroup