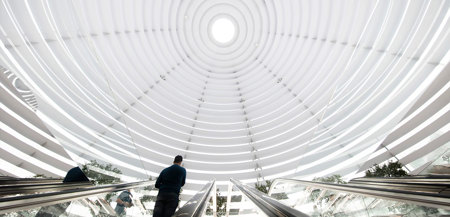 ---
Apple Marina Bay Sands
Foster + Partners
---
Completed in September 2020 Apple Marina Bay Sands is set to be a distinctive presence on the bay, with a 30-metre diameter dome that is a contemporary interpretation of the geodesic dome, using minimal material to enclose the maximum space. Imagined as a clear bubble in the water, it references the sister pavilion through its materiality and site.
The glass dome comprises 112 pieces of glass treated with frit and coatings to allow a fully glazed external appearance with dramatic, integrated solar shading to the interior. On the inside, the dome features fabric baffles that spiral up to the top, providing solar shading and acoustic control within the store. The baffles provide glare control and reduce the area of exposed glazing, lowering the energy required to cool the space. The transparent glazing at store level allows visitors to have a direct connection with the outdoors, gradually transitioning to darker panels at higher levels to reduce solar gain. At the top a fully glazed semi-opaque oculus provides a dramatic shaft of light that travels through the space in much the same way as the famous pantheon in Rome.
The contrasting journey from the Marina Bay Sands shopping mall to dome offers the customer a dramatic and exhilarating journey and spectacular views across the bay towards the city. During the day, the dome reflects the colours of the surrounding water and sky, while in the evening the subtle interior lighting provides a warm glow.