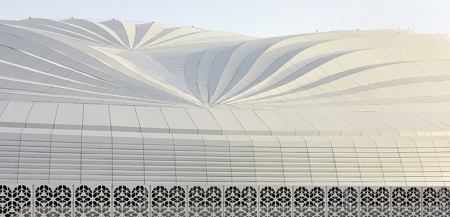 ---
Al Janoub Stadium
Zaha Hadid Architects
---
Al Janoub Stadium in Al Wakrah, Qatar was the first new venue commissioned for the 2022 FIFA World Cup in Qatar.
The brief called for a 40,000-seat football stadium for the 2022 World Cup which could be reduced to a 20,000-seat capacity in its legacy mode - optimum capacity as home ground to Al Wakrah Sport Club pro-football team.
The stadium has an operable fabric roof and cooling technologies. When deployed, the roof shades the field of play. Passive design principles, computer modelling and wind tunnel tests have maximised effectiveness of the enclosure for player and spectator comfort.
The client requested the design reflect Al Wakrah's maritime heritage, in particular, the traditional dhow boat. The design incorporates abstracted cultural references together with practical responses to climate, context & functionality. The abstraction allows multiple interpretations.
The stadium's roof design is an abstraction of the hulls of dhows turned upside-down on a beach and huddled together to provide shade. This concept is expressed in the stadium's pleated geometry, details and materiality. With origins in Arabic motifs and calligraphy, these fluid lines and pleats add texture to the outer shell and emphasize the stadium's unique geometry.
Designed in conjunction with its new precinct to sit at the heart of an urban extension of the city, creating community-based activities in and around the stadium on non-event days, Al Janoub stadium will be a memorable venue of the 2022 World Cup and afterwards at the centre of its community.